Guangzhou Wanling Real Estate Co., Ltd. is a wholly foreign-owned enterprise owned by Wang Xinxing Group of Hong Kong. Wang Xinxing Group's business scope mainly focuses on diversified business such as industrial investment and real estate development investment. Successful domestic investment and development projects include Shenzhen Phoenix Square, Bay Square, Baoan Automobile City, Shenyang Yinzao Square, Yunnan Sixth-Class Highway, Zhuhai Campus of Sun Yat-sen University, etc. And in Beijing, Shanghai, Shenyang, Shenzhen and other places to participate in large-scale department stores, chain sales and logistics investment, operation and management business.
Wang Xinxing Group has rich domestic and foreign business management experience and strong investment strength. The Group has always adhered to the customer-oriented business purpose, and will strive to create the most ideal business environment for the success of Wanling Square and the sustainable development of its businesses.
Wanling Square is located in the golden section of Yide Road, adjacent to Metro Line 2 and Line 6 - Haizhu Square Station. The new airport express line, Guangzhou Railway Station, and Huancheng Highway are also close to each other, and the traffic is very convenient. Wanling Square is 37 stories high, with a floor area of 120,000 square meters. It is situated in Xiongyi Delu wholesale business circle. It has a beautiful scenery along the river with 270 degrees. It has a magnificent momentum and faces the other side of the river.
The Wanling Wholesale Center has a business area of seven floors and a scale of more than 40,000 square meters. The "Wanling Toy Quality South China Consortium" from the negative floor to the fourth floor was opened in October 2004. It has successfully attracted more than 1,000 manufacturers, manufacturers and wholesalers, with more than 1,000,000 kinds of commodities. All kinds of goods are available. Since its opening, it has become a Yidelu wholesale business circle. Landmark items in the project.
Wanling Mall Product Zone, with the attitude of Haina Baichuan, gathers seven major product categories, more than 1500 businesses and more than 1 million commodities, with annual turnover of more than 10 billion yuan, accounting for 70% of the total trade volume of toys, boutiques, gifts and household accessories in Yide Road Mall. Almost one third of toys, boutiques and household jewelry products in China are centered on Wanling Square and through 7 major trade routes. The platform radiates more than 50 cities in China and connects more than 60 countries and regions in the world.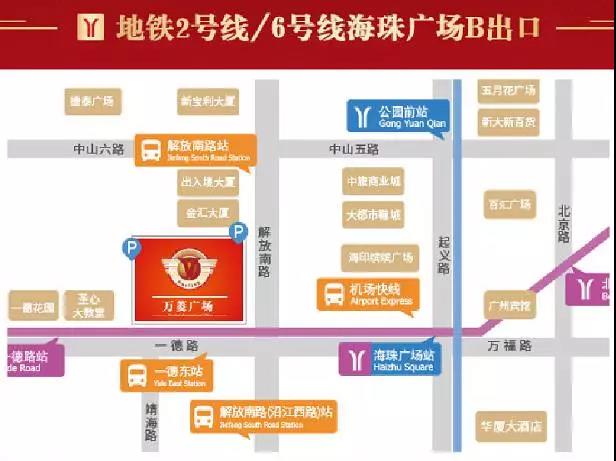 Traffic Guidelines:
Shop Address: 39 Jiefang South Road, Yuexiu District, Guangzhou
Metro: Metro Line 2/6 Haizhu Square Exit B2 goes straight 200 meters
Bus: Haizhu Plaza Station, Yide East Station, Qiaoguang West Station and Qiaoguang East Station