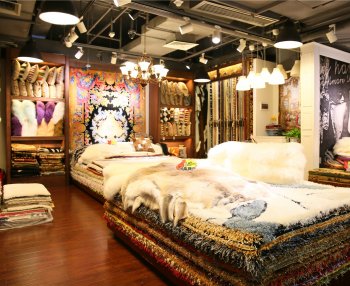 Shenzhen Huaxinyi Carpet Co., Ltd.成立于1993年,是一家誉满全国、集"设计、生成、进出口、销售、施工及保养"为一体的专业地毯企业,产品销往港台、欧美、日本及中东等地。地毯主要品种有:腈纶胶背地毯、羊毛胶背地毯、90L 120L纯天然色羊毛地毯、120L 200L 300L手工真丝毯、比利时高密度精仿羊毛地毯、比利时水洗仿丝地毯、工程地毯、艺术挂毯、美国杜邦尼龙地毯等。图案各式各样,有古典的欧美风格、简洁大方的现代风格、高贵的皇族气派,每一款、每一幅都是实用和艺术的完美结晶。
In line with the tenet of "quality first, customer first", the company strives to dedicate new products, high-quality products and famous products to you. Your satisfaction is our eternal pursuit!
Address: Pavilion 001, C District, 7th floor, Wanling Square, 39 Jiefang South Road, Guangzhou
Shenzhen Huaxinyi Carpets Co.,Ltd was founded in 1993 and has cstabl-ished itself as one of 
the well-known carpet company in southern China. Over the years, Group has expanded the 

number of show-rooms from 10 to dozens, covering Zhuhai, Guangzhou and Shenzhen, etc.. We 

primarily engage in manufacturing, wholesale & retailing of a wide range of carpets. Our 

products are popular with customers both domestic and abroad, including Taiwan, HongKong, 

Europe, America and Japan. The main product line consists of polyester rugs of high 

density, hand-made wool rugs, ma-chine tufted carpets, delicate wall carpetk, silk hand 

tufted rugs of 90L, which are all grace to match luxury building, hotel, recreational 

facilities and engineering purpose.

Our reputation for good quality, artistic style, simplicity interwoven with elegancy 
distinguishes us from other carpet makers.

Address: 001 shop, C District, 7 floor, Onelink plaza, No. 39, Jiefang South Road, Guangzhou