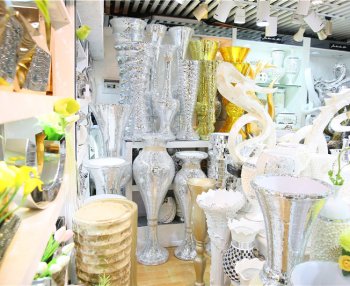 Founded in 2008, after seven years of hardening and transformation, we are brave to develop and innovate, advocating the principle of quality of fine-crafted products, excelsior and ingenious design concept, relying on its exquisite and elegant quality, novel and unique shape, high-quality and intimate clothing. Best-selling in the world, the products sell well in star-rated hotels, high-end clubs and large-scale leisure and entertainment places all over the world, and have been highly praised by users at home and abroad for many years.
We have our own factories and strong design, research and development, production capacity, and constantly expand the factory to develop different styles of home decorations, integrating various materials and styles, such as FRP products, ceramic products, electroplated products, stainless steel electroplated vases, to meet the diverse needs of customers, suitable for decoration, soft-fitting companies, villas, model rooms, hotels, business clubs, etc. And constantly introduce new products, tailor-made for customers.
In addition to the artistic vases and ornaments with smooth lines, dynamic and lively motions and objects, Jinkaisha's home decorations can be placed on different occasions. In addition, the colors of various ornaments are eye-catching and play an artistic role in embellishing the luxurious temperament of furniture, giving people a hazy feeling through mist, showing more soft, warm, comfortable and charming meanings, as if they were in a hundred flowers.
Order Wholesale Hotline: 020-62656916 020-62656287 Miss Wang 15876525366
Address: Shop 051, Area A, 6th floor, Wanling Square, 39 Jiefang South Road, Guangzhou
  "Manufacturers selling flowers and top-grade suit, applicable to the villa exquisite furnishing articles, luxury housing, hotels, upscale office, home etc decoration design, sold at home and abroad, welcome to wholesale orders!"