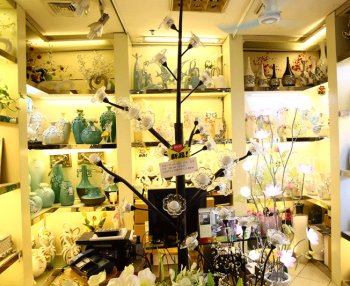 Nan Sheng home decoration—由集设计、生产于一体的广东省汕头市澄海区东里南盛工艺厂和专业负责市场开发的香港南盛工贸有限公司共同组成。工厂创办于1993年,拥有近二十年的生产经验及一批手工纯熟的老师傅,对产品质量一直严格要求,以保证为顾客提供手工精美的产品;加上一批具有时尚创新精神的设计师团队,为我们打造出一代又一代的时尚独特、清新亮丽的陶瓷,树脂工艺品。
First of all, let you know the general situation of our company: Our company was established in Chenghai, Guangdong Province in 1993, and has "Nansheng", "Jiayu" and other brands. Specializing in the development and manufacture of handicraft products, the main products are: household ceramics, resins, household decorations, Christmas gifts, etc. The product quality is good, the price is reasonable, the products are mainly exported to the Middle East, Europe and the United States, Asia, popular in the world market, sales last year exceeded 7 million U.S. dollars. Moreover, our products are exquisite in design, unique in shape and novel in style. We can guarantee that we will provide you with high quality, low price products and high quality services. We know that you are an expert in this field. (Have a good understanding of the market, control ability and marketing ability, unique vision. Therefore, we have reason to believe that our products will be sold well under your operation, and you will also benefit from it.                              
In 2006, due to the needs of customers, the company began to dabble in LED lighting. There are many companies that have cooperated, such as QVC in the United States, Daiqian Corporation in Japan, Premier in Britain and SG-supplies in Germany.
At present, many original products of our company have been patented by the state. Among them, LED lamps and lanterns are the unique main products developed by our company after a long period of time. The flowery bonsai, which is composed of crystal-like flowers and artistic ceramic vases, is deeply loved and concerned by customers both at home and abroad, and has an undeniable market prospect and occupancy. Therefore, we hope to establish trade cooperation with you and make efforts to develop bilateral trade.
Distribution, agency, franchise and other flexible business methods for your choice. We look forward to working with you to open up a better future.
  选择Nam Sheng,选择新生活!
Address: Room 009 and 1909, 4/F, Wanling Square, 39 Jiefang South Road, Yuexiu District, Guangzhou